We Are NOT "Salespeople"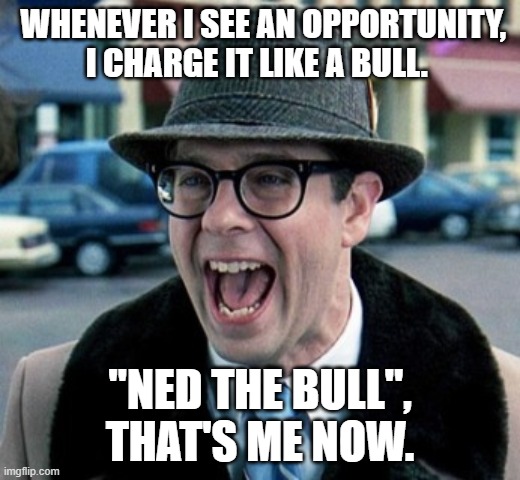 Groundhog Day is around the corner and just about the only thing I know about that holiday is from a movie with Bill Murray (a family favorite). But being in the insurance industry I cringe repeatedly when Ned Ryerson, insurance agent, solicits life insurance from the time looping weatherman. The reality of this insistent and overly positive salesman is that he is the stereotypical insurance salesman. And we as consumers (Bill Murray) feel constantly stuck in a pattern of being pushed into buying and listening to pitches form these abrasive and fast-talking acquaintances.
We want to like ambitious Ned. He's out there hustling, leveraging all his contacts and charging every opportunity like a bull ('Ned the Bull'). But like Bill Murray, we try every technique of our own to avoid and dismiss the one liner sales tactics. Why is it that so many salesmen have to be so annoying and persistent? Is it necessary for success?
Hustling to get sales is something our agency has never aimed to do and we have thrived without it. We tend to generate our sales through referrals, great Google Reviews, and participating in our community. The thought of "pushing" insurance onto our neighbor tends to make our stomachs' twist. We have a vision that by providing the best customer service, our business will grow by word of mouth and our customers wanting to bring us their business. We don't want to chase clients down to get a quote or follow-up ten times to an email about if they're even interested in extra coverage. We hate that kind of tactic ourselves, so why would we want to push it on you?
When we recommend a product, we aren't in it for the hustle or the commission. We genuinely are concerned about gaps in coverage and potential situations where you could have a financial emergency if there was a disaster. When you have multiple forms of coverage with us, we also get a view for your overall missing coverage.
For Example:
If you accidentally run your car into your house, would that be covered under your home insurance or auto insurance? It would be much easier for us to figure that out if we could see both sets of coverages.
If you work from home and your business gear is stolen, would your home or business insurance cover it? We would need to see both policies to know what the specific terms of each contract were.
And if you call us to make a payment on your business insurance and we notice that your commercial auto policy is missing a driver, we can go ahead and change that. Having your coverage in one place reduces redundancies, extra work, and potential financial pitfalls for you and your Insurance Agent.
While there are many hard-working salesmen like Ned, that is not our style. We aren't trained with pitches or one liners to "get you on the hook". We prefer the catch and release method. We'll catch you for a moment while we chat and then when you're released, you'll go tell all your friends.
We won't be charging you like a bull, because we don't view you as an opportunity. We view you as a neighbor. Give us a call if you have questions about current or potential coverages. We'd be happy to talk with you and get you covered with the right insurance while we're at it.